You can drive up and load directly into almost all units making them the most convenient storage solution possible.
Extra Small
Overflow storage: think garden shed, small loft space or a nice generous understairs cupboard.
Vehicle suggestion: should take the contents of a car or small van

1.22m x 2.44m x 2.44m giving 2.97m², 7.24m³8ft x 4ft x 8ft giving 32 sq ft giving 256 cu ft
Small & Medium
Suitable for packing up the average 1 bedroom flat or single garage.
Vehicle suggestion: should take the contents of a transit-type van

Small
1.22m x 2.44m x 2.44m giving 5.94m², 14.48m³8ft x 8ft x 8ft giving 64 sq ft, 512 cu ft
Medium
3.05m x 2.44m x 2.44m giving 7.43m², 18.11m³10ft x 8ft x 8ft giving 80 sq ft, 640 cu ft
Large
Appropriate size for packing a three-bedroom house or double garage.
Vehicle suggestion: removal van
6.1m x 2.44m x 2.44m giving 14.86m², 36.22m³20ft x 8ft x 8ft giving 160 sq ft, 1280 cu ft
Extra Large
Will generally take the contents of a 4-5 bedroom house, depending on the scale or your furniture.
Vehicle suggestion: removal lorry
9.15m x 2.44m x 2.44m giving 22.29m², 54.33m³30ft x 8ft x 8ft giving 240 sq ft, 1920 cu ft
Don't just take our word for it…
Storage Unit

Dimensions (m)

Dimensions (ft)

Floor (sq m)

Floor (sq ft)

Volume (cu m)

Volume (cu ft)

Archive Boxes
Pallets
Motorbikes
Weekly prices from
Extra Small

2.44 x 1.22 x 2.44

8 x 4 x 8

2.97

32

7.24

256

NA
1
1
£17 to £25
Small

2.44 x 2.44 x 2.44

8 x 8 x 8

5.94

64

14.48

512

65
2
4
£22 to £40
Medium

3.05 x 2.44 x 2.44

10 x 8 x 8

7.43

80

18.11

640

100
2
5
£26 to £50
Large

6.1 x 2.44 x 2.44

20 x 8 x 8

14.86

160

36.22

1280

200
6
10
£32 to £69
Extra Large

9.15 x 2.44 x 2.44

30 x 8 x 8

22.29

240

54.33

1920

300
7
15
£39 to £92
GET THE BEST DEAL! FANTASTIC SAVINGS ON 3, 6 & 12 MONTH HIRE EVERY UNIT, EVERY TIME YOU RENEW!
Don't just take our word for it…
Are you a removals company, looking for storage facilities?
Eversley Storage is perfect for removals firms. We started welcoming removals firms very soon after opening in 1988 and have evolved our business to sit conveniently alongside yours.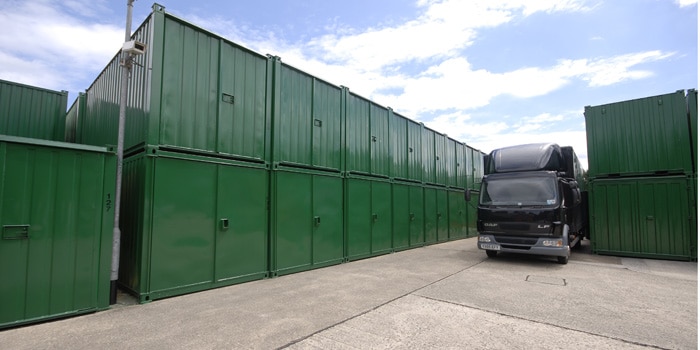 Warehouse storage
This is the best option for removals companies. Our sturdy and well-appointed warehouse can take up to 160 wooden boxes, which measure 5'2″ side, 8′ high and 7'2″ deep.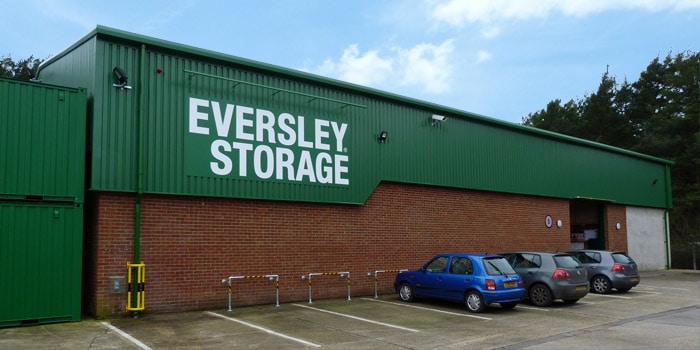 These boxes are perfect for removals firms. They are low cost, enabling you to keep your quote competitive. Should you have a lorry of the appropriate size, our wooden boxes can be taken to your customer's property, filled onsite and then brought back, saving you time.
To find out more about costs, call us on 0118 932 8328 or use our contact form.
The removals firms using our warehouse operate either by using our forklift truck service to load boxes onto their vehicles, or by simply using the boxes as low cost conventional storage units. Both approaches to this facility work very well.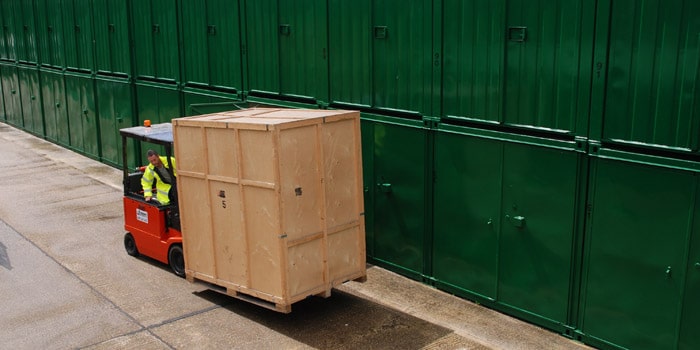 Space to work
We have a well-maintained hard-surfaced road network so that our units can be accessed directly even by the largest road-going vehicles. We will bring the wooden household removals boxes that you need out of the warehouse so that you can load and unload easily from your lorry, if you are not loading the box directly onto your vehicle.
What else do you need to know?
Warehouse wooden box size: imperial 5'2″ x 7'7″ x 7'2″ metric 1.59m x 2.32m x2.19m
Gives floorspace of 37.03 square foot, 3.48 square metres and gives 280.79 cubic foot or 8.08 cubic metres
We are located in Eversley, in Hampshire – just off the A30
We open 7 days a week, for extended business opening hours
We are a family business, operating from this site since 1988, with a friendly, helpful team who would be delighted to help solve your removals storage problems
Our security arrangements are excellent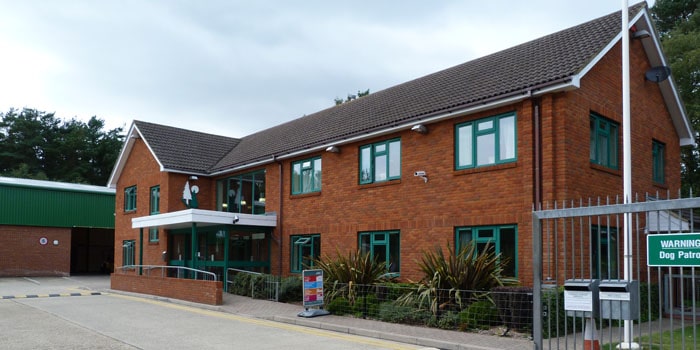 If you are looking for household or general business storage, see tabs above.
Don't just take our word for it…
Eversley Storage
I'm not really one for making comment, but I do know how to vote with my feet - we have used Eversley Storage only for the past 25 years.
Eversley Storage
Very nice people to deal with at all times - I wish everywhere worked like Eversley Storage.
Frequently Asked Questions related to unit sizes
Unit measurements are given length, width, height.
Measurements are external. They are generally accurate, but of course, if you are storing an item that you know is going to be very close to the maximum dimensions of your unit, you may need to come and measure precisely, before bringing the item into store. If you aren't sure what size you need, do come to see us and we can show you into the various units to help you get a good idea of the space.
The dimensions are given on our Sizes page, in Metric and Imperial. The cubic and squared measurements are given also.
If there's anything else we can help you with, do pop in and see us or give us a ring 0118 932 8328.
Need to know more?