There are currently two vacancies available – a Part Time Duty Manager role (two to three shifts per week) and a full time Storage Manager role.
Part Time Duty Manager – Summary
Sales job, reception job in Hampshire, near Berkshire / Surrey border
JOIN US!
Are you customer focused, reliable and able to take responsibility?
We are looking for someone to work two to three shifts a week plus a share of Bank Holidays and occasional holiday cover.
You will be part of our small, successful and professional team. We provide training and an excellent working environment.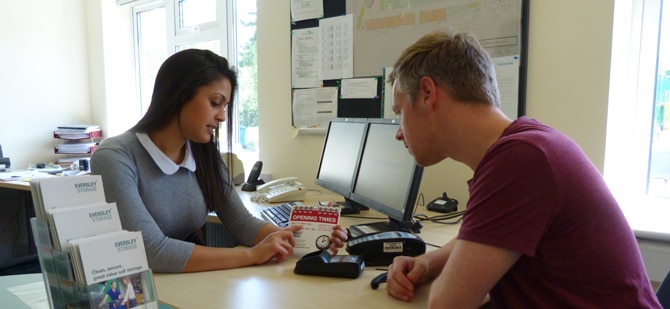 Part Time Duty Manager main responsibilities:
Sales: to take bookings and agree vacations of storage facilities;
Sales: to answer and progress customers' enquiries;
To conscientiously administrate storage bookings, vacations and payments;
To supervise all activity at the storage premises during business hours.
Skills and attributes for the Part Time Duty Manager role:
Enjoy selling and providing excellent customer service to the general public;
Be honest and trustworthy, reliable and punctual;
Capable administrator with a good level of computer literacy so that with training, you will be able to master and effectively use our storage management software;
High self motivation and the ability to work on your own;
Be able to inspire confidence and trust in customers and colleagues.
Part Time Duty Manager, next steps:
We are based at our Eversley Storage premises, on the Hampshire / Berkshire border – check out our location.
Download the full Role Guide, including details of the rate of pay.
Application is via CV and a covering letter which should detail your availability and suitability for the role.
Email jobs@eversleystorage.co.uk or call us on 0118 932 8328 with any queries.