Running a classic cars business, or even just fixing them up for a hobby is a huge undertaking. Once you've got them in good working order, they can be very valuable and at the same time are often rather delicate and shouldn't be parked outside, exposed to the elements for months on-end. Our storage units look like shipping containers, but they aren't. They are specially designed for self storage purposes and have a fully insulated ceiling with built in internal locks and concealed internal hinges for increased security. They are absolutely perfect for storing a very large, but rather precious item, such as a classic car or any other vehicle that can be accommodated.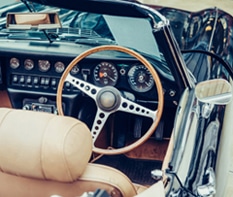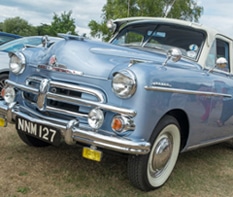 Car storage
Now, the sad sad news is that our marketing manager does not have a beautiful classic car. However, she did prepare the video below (using her little Golf) to help you see how car storage works, here at Eversley Storage! We have special ramps that we can lend you to help gently manoeuvre the vehicle in with minimal bumps and she used one of our biggest units to demonstrate with so that you can see how much storage is left for you to use for other equipment, should you need to. A number of our customers storing their classic car are using the rest of the space within the unit to store the rest of the kit involved – spares, tools, dust covers etc.
Vintage car storage
One of the most important factors about the classic car storage that we offer is that it is just as private and enclosed as a garage – you hold the keys, no one but you will be accessing the space in which your car is stored; no one can brush past your pride and joy and scratch it with the buckle on their bag or a rivet on their jeans. But our storage units are massively more secure than the average garage, protected as they are by 24 hour lighting, CCTV, security presence and the site being locked down at night with a big guard dog running around!
We will be delighted to offer you the choice of available units so that you can pick the location on-site which is most convenient for your car. Do call up or pop in and our friendly, experienced staff will help you to find the right unit for you and work out how to get the best for your money.
What our customers are saying
We have used your services previously & as ever, the service from staff & the secured storage that you provide has been nothing but absolutely outstanding. Each & every staff member to answer the phone has been just joyous to deal with. We shall highly recommend your staff & services with 5*+ rating
I have been a customer of Eversley Storage for some 20 years. They offer secure, reasonably priced facilities accompanied by excellent service from friendly and helpful staff. I have no hesitation in recommending them.
Fantastic service and facilities, highly recommended!
To all the staff at Eversley Storage, thank you for looking after me so well this year and keeping whats valuable to me safe. You have given me great peace of mind. Thank you.
I have used the site for a number of years, both for business and personal use and have always been happy. The staff are unfailingly friendly and helpful.
What would help you, now?