The tidy way to make a profit
The self storage industry was in its infancy when Eversley Storage started but has since boomed as householders and businesses have sought alternative space.
"Entrepreneurs starting up small businesses from home are using us for their warehousing or business archiving," said managing director, Michael Woolfson.
"The aspiration with regard to housing is still driving much of our custom, but this year it has been for people building extensions and protecting their belongings while they do it. People are less willing to chuck things out and prefer to store with us while they sell on eBay or keep for a family member.
"With many householders unable to move in the current property market, they are effectively using a storage unit as an extra room."
Mr Woolfson said that shortly after the firm opened, economic conditions were also tough. "Many of our first customers stored goods or furniture as their businesses downscaled. People stored seasonal stock to minimise in-town rents they paid. We were brilliantly located for the motorway network and lucky to be on the A327, a good through route for easy access."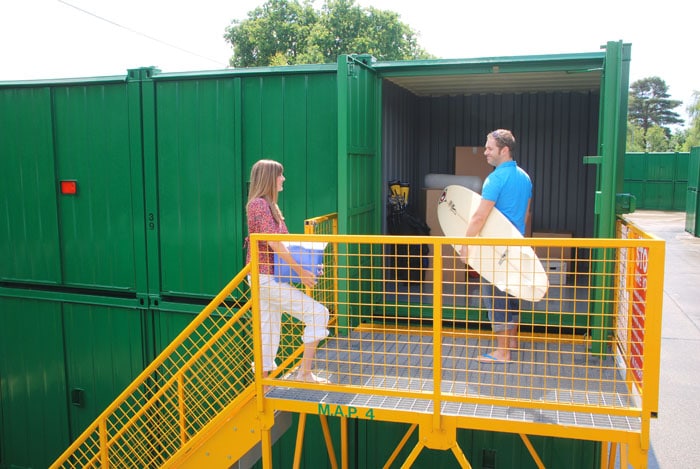 The company decided to develop a road system so cars, vans and almost all lorries can simply drive up to the storage unit, load or unload and drive off.
"For years we have had a customer collecting his spare parts for his plumbing business on his way to work. His company was near Horsham, his patch was local and they reduced their overheads and his travel expenses by forming a small parts depot in one of our units. His van swings in regularly, drives up to his unit with his list for the day and 10 minutes later, he's on his way to his first call."
The company also provides mobile access platforms so goods can be stored at first floor level. "Business archiving is a popular use for the units, removals companies reduce their costs by renting them, and the storage of seasonal sports equipment is popular too," said Mr Woolfson.
"People have been ingenious in bad times as well as good in dovetailing storage to business needs, either as they start out or as they dispose of stock and use storage services to organise themselves. Whether times are hard or easier, self storage in the South East is an important support service for the changing needs of householders and businesses."
This article was written by Stephen Lloyd and published in the 7 August 2009 edition of the Fleet News and Mail and an edit of it has been reproduced, here.
What would help you, now?