Many of our household customers are not looking for storage for a house move. More and more people in the South-East are extending or renovating, to make their current house work as their family grows and lifestyles change. These projects can be changes to the existing layout, loft conversions, basement constructions or major house extensions.
A very changed housing market
There seem to be multiple reasons for this shift. First and foremost – it's a real sellers' market out there, just at the moment. Precious few houses come on the market and it can be pretty difficult to find what you are looking for. Home owners often respond to this by making their current home into the home they are looking for, by increasing the size or improving the layout. Secondly, the age-old problems of over-capitalising and over-investing in one property is massively altered, as well. Where twenty or thirty years ago, you had to be quite careful how you splashed fifty grand on a big extension, because it could take a decade to 'earn' that money back in the house value, if they have bought well, many people in London and the South-East now see a similar increase in their house value over a few years without even doing an extension. So, there is much more appetite for adding value to a property, in a sensible way, keeping an eye on resale. While the housing market is never a sure thing, adding value to your property in a big chunk is far less risky than it was.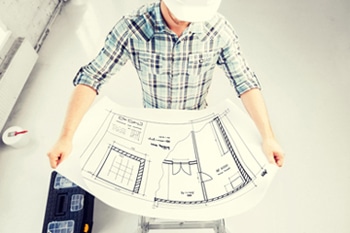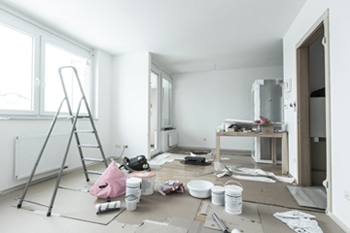 Combine value added to a property with the very significant stamp-duty costs incurred by moving and we can see why this group of customers are growing, year-on-year.
So, how does Eversley Storage provide perfect storage during building work?
Our units are drive-up access and you can park right alongside. So, whether you are clearing two or three rooms out over a couple of weeks, or engaging a removal company to clear out in a day, it is easy to load (and later unload) your unit.
Our units are easily accessible. If you suddenly realise that you do need that big saucepan, after all, or the spare chairs that you cleared out of the loft, you can simply come to Eversley Storage, with your own key, park next to your unit, unlock and load up what you need.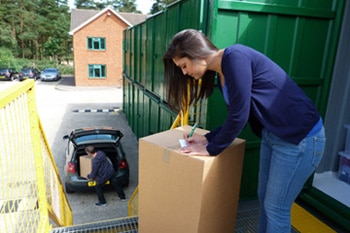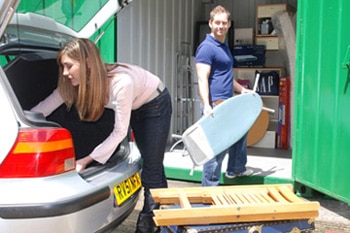 Our pricing is flexible. Let's say you know you'll need six months storage – minimum. You can get 20% off the monthly rate by taking a six month hire. Then after that, if you need to play it by ear, you can change your term, easily.
Storage for home improvements
So, rather than suddenly discovering that you've damaged that furniture you hoped would survive three months in the shed, or panicking about where to put everything at the last minute, check out our prices and unit sizes ahead of time and factor our great value household storage into your renovation plans. If you need any advice, our friendly and helpful team would be delighted to help you work out how to get the most for your money – call 0118 932 8328 or pop in and see us.
What our customers are saying
We have used your services previously & as ever, the service from staff & the secured storage that you provide has been nothing but absolutely outstanding. Each & every staff member to answer the phone has been just joyous to deal with. We shall highly recommend your staff & services with 5*+ rating
I have been a customer of Eversley Storage for some 20 years. They offer secure, reasonably priced facilities accompanied by excellent service from friendly and helpful staff. I have no hesitation in recommending them.
Fantastic service and facilities, highly recommended!
To all the staff at Eversley Storage, thank you for looking after me so well this year and keeping whats valuable to me safe. You have given me great peace of mind. Thank you.
I have used the site for a number of years, both for business and personal use and have always been happy. The staff are unfailingly friendly and helpful.
What would help you, now?