I love the décor in my house, though admittingly, I cannot take credit which is maybe why I like it so much. My other half takes pride in making our house look beautiful. We do cheat a little as he spends most of his working days in well-maintained Show Homes, where we get most of our ideas and colour palettes from. The tones he uses are very calming and the designs are uncomplicated, which for me, have an instant soothing effect on my well-being as soon as I walk through the door.
Our home interior could almost be described as minimalistic, but I still like to have the comforts that come from a more maximalist design trend. To achieve this, we've incorporated warmth into our minimalistic vibe, which still allows us to have comfort without clutter.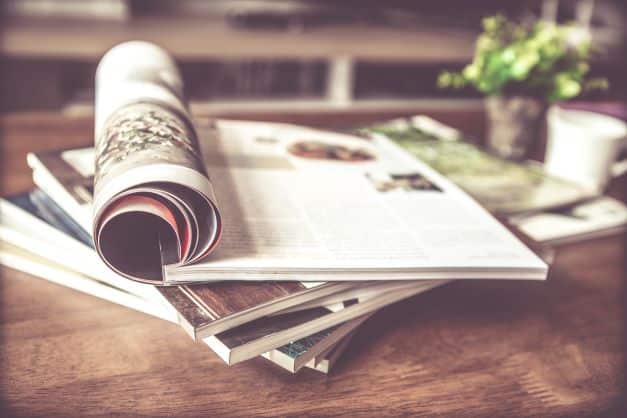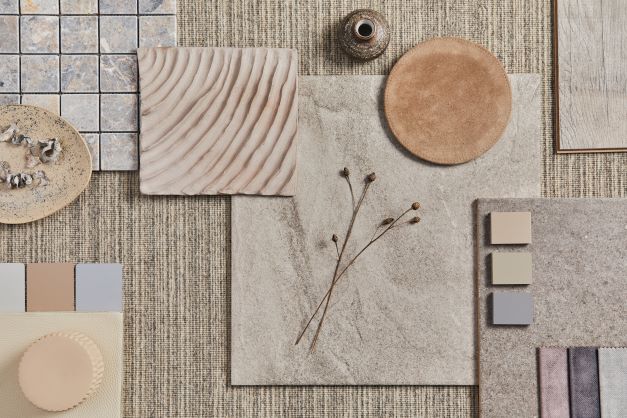 Warm minimalism focuses on materials that resonate with the outside environment. Its inspiration and colour palette can be found in nature, from warm woody shades to the terracotta hues of autumn leaves and the gentle beige shimmer of sandy beaches. Top designers call it the 'Modern Scandi-Style' but the concept is similar to that of minimalistic living – declutter, live simply, remove unneeded objects in your room décor, stick to neutral colours and enjoy a calmer, more focused life.
The 5 basic minimalistic design trends
The beauty of this style is that you do not necessarily have to take on a whole refurb to incorporate it into your living spaces. As long as you include the 5 basic minimalistic trend concepts in each room, the look can be quite achievable –
Choose clean-cut styles with straight edges and smooth surfaces.
Keep pattern to a minimum, instead use different textures to add depth.
Use neutral colours throughout but with no more than one or two tones within each room.
Incorporate warm lighting to soften the ambience.
Declutter but don't be afraid to accessorise with abstract designs to show your personality.
'Less is more' – Is the saying true?
We've picked out some of our favourite features to show you how this vibe can be achieved in each of your living spaces.
Living Room
We like the warm tones of this living room, making it feel cosy and comfortable. The layers of texture contribute to the overall cosiness of the room. The angular sofa, paired with the woven style footstool, adds depth in contrast to the smooth fabric and straight edges. Sofas elevated from the ground with tapered-style feet create a tidy space on wooden or laminate flooring. Adding a rug can instantly soften the space.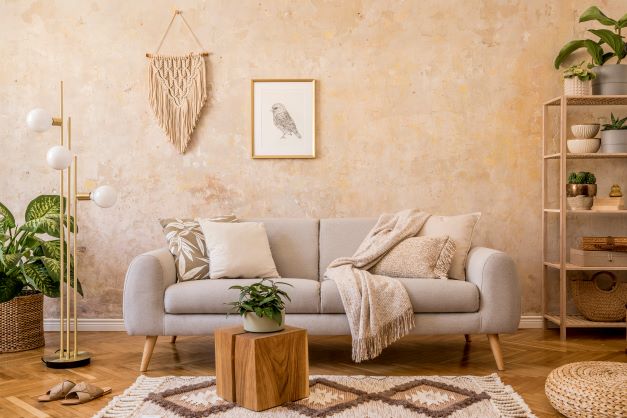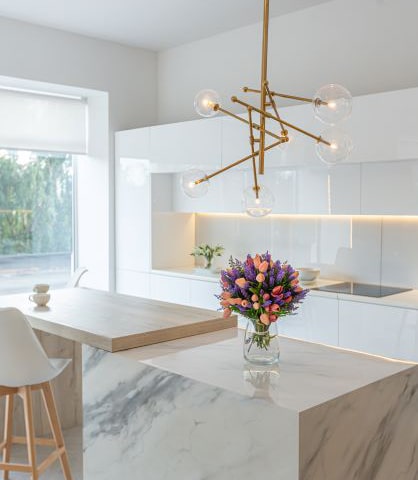 Kitchen
Kitchens have a social element to them and are often referred to as the hub of the household. Families regularly enjoy gathering here in the morning before they go about their busy day. It's also a great space for you and a friend to enjoy a cuppa together. Sleek-style kitchen islands with clean lines and smooth marble top surfaces can create space, allowing extra room for cooking whilst socialising at the same time. Low-hanging, contemporary-style lighting in warm hues can add to the overall ambience and warmth of the area.
Dining Area
The dining room is an area seldom used by busy families. However,  it is still a space worth investing in for those times when you do reconnect with one another. If space is not on your side, choose practicality over design and style. An extendable table can come in handy if you wish to use the area as a multi-functional space. When not in use, opt for serene tabletop décor, such as a stained glass vase with a floral stem.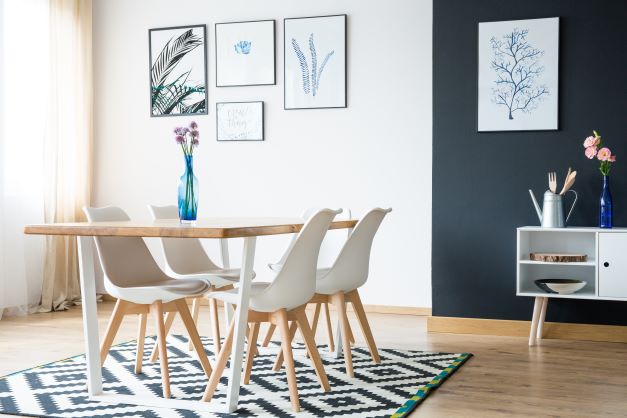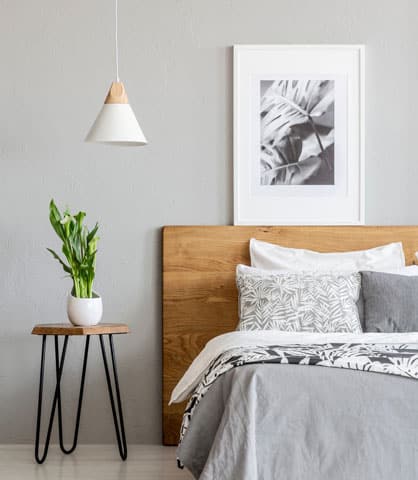 Bedroom
Sleep research has become a popular topic over the years. Our busy lives have led to us not getting enough zzzs! Research has shown that sleep quality, by far, outweighs sleep quantity. Make sure the space inside your bedroom is as serene as possible by de-cluttering. Choose an ottoman-style bed for the minimalistic approach and try changing things up a bit by having just one bedside table, while on the other side, place a space-saving floor lamp. Alternatively, suspended lighting can have the same effect as a lamp and save on floor space. Choose a piece of wall art to go with it that creates balance and harmony.
Bathroom
Contemporary minimalist bathrooms have a high visual impact despite their lack of accessories. Simplistic lines within a bathroom can establish a clean environment, while freestanding basins and sideboards create space. Choose a single colour for your bathroom, but texturize it using tiles and flooring. Alternatively, match your wall tiles to your floor tiles for a seamless look. Add a health-beneficial house plant for purity.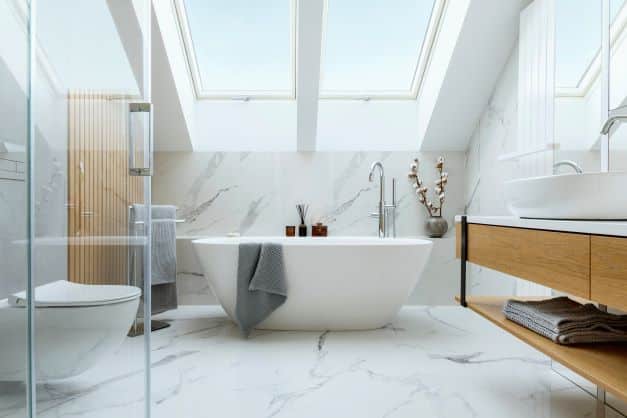 How we can help…
Are you keen to try this simplistic way of living but not sure where to start? Well, why not hire one of our secure storage units to help you get a head start. With a range of different sizes to choose from, you could de-clutter part or all of the house whilst you decide which bits to keep. With easy access during our opening hours, 7 days a week, you can change your mind and swap things around as often as you like. And, if you can't bear to throw anything away, our flexible hire terms allow you to store for as long as you wish.
If we can be of help, give us a call on 0118 932 8328 and one of our friendly storage team will answer any questions you may have.
What our customers are saying
We have used your services previously & as ever, the service from staff & the secured storage that you provide has been nothing but absolutely outstanding. Each & every staff member to answer the phone has been just joyous to deal with. We shall highly recommend your staff & services with 5*+ rating
I have been a customer of Eversley Storage for some 20 years. They offer secure, reasonably priced facilities accompanied by excellent service from friendly and helpful staff. I have no hesitation in recommending them.
Fantastic service and facilities, highly recommended!
To all the staff at Eversley Storage, thank you for looking after me so well this year and keeping whats valuable to me safe. You have given me great peace of mind. Thank you.
I have used the site for a number of years, both for business and personal use and have always been happy. The staff are unfailingly friendly and helpful.