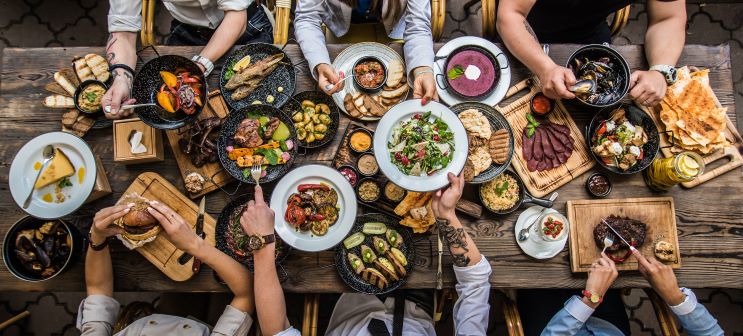 I don't know about you but the smell of a barbeque on a warm summer's evening, always kicks my taste buds into action…now why is that?
The word "barbeque" originates from the Caribbean word "barbacoa". Originally, barbacoa wasn't a way of cooking food but the name of a wooden structure used by Taino Indians to smoke their food. It wasn't until the Spanish adopted the word, did it become a way of cooking.
The juicy sweet-bitter flavours you find from food cooked on the BBQ, combined with the smokey aromas can send our taste buds into a little frenzy!
Sounds delicious right?…But investing in a decent barbeque can pose some serious food for thought!
There are many benefits to these modern gas barbeques – quick lighting, safe cooking, easy to clean, dishwasher friendly grills and turn on at the flick of a switch. They are fantastic for that spur of the moment decision when the classic British weather actually takes a turn for the better – the quick set up allows you to give ordinary meals a bit of a smokey upgrade as well as being perfect for throwing big parties.
However, they can be quite pricey and a big downside which often makes people feel they can't commit to this purchase, is a rather large, very expensive item sitting in the garden, unused all winter, because if you don't have anywhere safe and dry to keep the BBQ, it is liable to rust and can be vulnerable to theft.
How to store a gas BBQ over the winter – protecting your pride and joy
Our 4′ units are the perfect size to store your BBQ in during the winter.
They are safe, secure and designed specifically for storage. There is also heaps of room, even after storing a big BBQ – for skis, surfboards, bikes, car bike racks, storage boxes, suitcases – all sorts of summer bits and piece that you don't want to keep under the spare room bed or in the garage all winter.
Don't forget to disconnect the gas bottle before storing it here – the gas is the only thing that has to stay at home.
Call 0118 932 8328 and speak to a member of the team or pop in and see us during our opening times and we will be delighted to show you a few unit sizes so that you can judge what you need and talk through the best value plan for you.
Don't just take our word for it…