The Vine Centre in Aldershot does incredible work to support homeless and vulnerable adults. The Centre operates as a soup kitchen and drop in centre but also supports people trying to get into housing, works to help people free themselves from addiction and offers training to help people get back into work. Recently, they have launched Vine Dining which is a business offering mobile catering, giving people the chance to work for three months to build up an employment history.
At Eversley Storage we are piloting a scheme that we are calling The Big Shop and Local Top-Up! So, our contact at the Vine Centre gives me a shopping list for us and a shopping list for an appeal, locally. I then put out the word on local social media sites that we are collecting and give a list of suggested items that the Vine Centre need.
We had an amazing first response with people all taking their own approach, from simply adding an extra bottle of washing up liquid to their shop and dropping it in, to taking advantage of an offer and dropping off stacks and stacks of individual chocolate bars!




Then, after 10 days or so, I did a bulk buy shop for the items on my list and took those things, with the box from the office and dropped it off in Aldershot at the Vine Centre.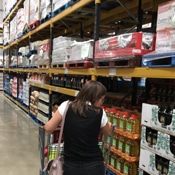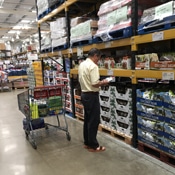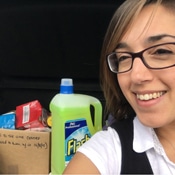 As you can see, on this occasion our MD got in on the action and came along to help lug crates of water and gigantic tubs of margarine!
I feel like this is a superb local cause to support, combining the very important work of providing day to day support with the hope of helping people to improve their situations. My little girl once explained homelessness to me after an assembly at school as "people living really nearby us, our actual neighbours, but with no bed to go to sleep in, no quilt, no nightlight." The feeling that she had sat there thinking about trying to do without her bedside lamp especially sharpened the reality of this situation, to me and I love the idea that there are practical things our business can do, to support those neighbours of ours who are trying to do without the essential safety and security of their own place to live.
Would you like to help?
Firstly, do please join in with us next time – I'll be putting the word out locally again, asking for donations to add to our big shop in the Autumn, so why not drop a couple of things in to us when you see those shout outs cropping up on social media?
Secondly, if you're running a business where, like us, you have catered meetings and are local to Aldershot, why not try Vine Dining? I'll be reviewing it here in a few weeks' time, so you can get the sarnie-standard lowdown here, soon! Contact them on 01252 400196 to find out more about Vine Dining.
Finally, if you fancy getting a bit more involved, by volunteering your time or running a fundraiser, click here to find out more.
Who are we?
If you've arrived at our website for the first time, you might like to know a little more about us as a company…
Click here to find out more about us and about our team.
If you are planning to drop items off because we are running an appeal you will need to check out our opening hours.
This post was written by Cath Hammond, Marketing Manager at Eversley Storage.