We are always interested to see how our business customers use their storage unit and one company recently had a great idea for how to use our cheap business storage for their disaster-proofing! What did you do with your last batch of computer hardware? Destroy it? Recycle it? Donate it?
Computer storage
The company in question were looking for self storage near Reading because they were in the process of installing a new server, new hardware and refreshing the whole network at their office. As the old system was removed, they boxed and labelled each work station, the servers, the desktop cabling – everything! Then they stored it with us.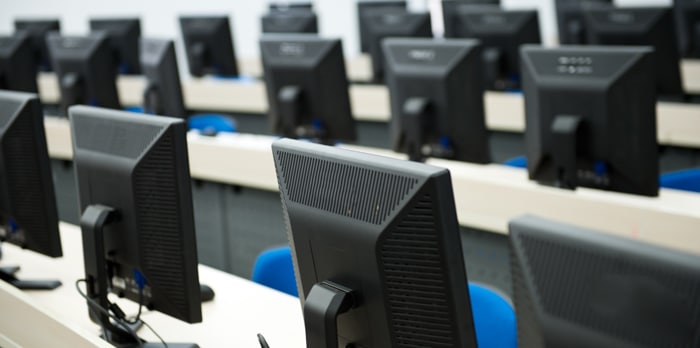 They kept it for the first three months so that they had a system which they could reinstate rapidly in the event of a terrible teething problem with the new system. Then they held it all in storage in their unit for another year, so that if there was a failure, fire or flood, they would have the same quality of backup. What a great idea: self storage for top quality business continuity planning.
Disposal on-site
After 15 months, the company felt that their computing structure had moved on sufficiently that the computers they had in backup storage were no longer of help in the event of a disaster.
So, they engaged a contractor to come and collect it all and to take to a recycling facility. The hard drives and servers were destroyed and the monitors, mice and keyboards were then donated to charity. Because our premises have been designed to accommodate heavy-goods vehicles, the recycling company could easily bring their lorry right up to the unit, load and leave without wasting time transferring the equipment to a loading area.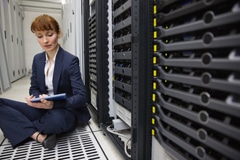 Getting the best deal
Knowing their plan would keep the computers in the storage unit for at least a year, the company took out an annual hire. This gave them a 25% discount on the standard monthly price. They then renewed for another year, knowing that they would probably only need three or four months more. Because our annual discount applies every time you renew, they again benefited from a 25% discount on the standard price. When they moved out, we refunded their unused days back to them, along with their deposit.
If you would like to store it, we can help you
We have units ranging from just under 3 cubic metres to a whopping great 54 cubic metres! And of course you can have as many as you like, providing they are available. So, whatever business storage you need, we are here to help you work out how to organise it.
It's not just size that makes us flexible!
Our pricing structure rewards customers for committing to a longer period of storage. We take all payments in advance. Our monthly rate is competitive but if you can plan ahead and take a unit for 3 months, 6 months or 12 months you can save 15%, 20% or a staggering 25%. That's not an introductory offer. Those discounts apply to every single unit, every single time you renew.
Want to store your stuff on a site specifically set up to enable large lorries to access the custom-built storage units? Want to find out how to get that 25% discount on your business storage? Check out our sizes and prices:
What our customers are saying
We have used your services previously & as ever, the service from staff & the secured storage that you provide has been nothing but absolutely outstanding. Each & every staff member to answer the phone has been just joyous to deal with. We shall highly recommend your staff & services with 5*+ rating
I have been a customer of Eversley Storage for some 20 years. They offer secure, reasonably priced facilities accompanied by excellent service from friendly and helpful staff. I have no hesitation in recommending them.
Fantastic service and facilities, highly recommended!
To all the staff at Eversley Storage, thank you for looking after me so well this year and keeping whats valuable to me safe. You have given me great peace of mind. Thank you.
I have used the site for a number of years, both for business and personal use and have always been happy. The staff are unfailingly friendly and helpful.
What else would help you, now?
Need to know – read Ts and Cs about our business storage case studies…