November is the month we pay tribute to the brave service men and women of the armed forces and remember those that served to defend our freedom. With the numerous bases in the area and local military town, Aldershot, known as being home of the British Army, it is no wonder that our local area is rich with military history. North Hampshire in particular, has a military legacy that dates back as far as the Iron age and English Civil War.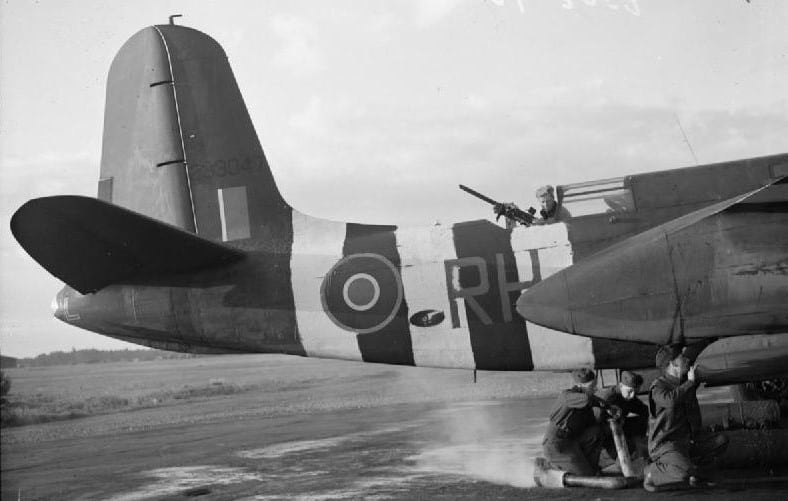 88 Squadron, Douglas Boston Bombers at RAF Hartfordbridge 1943
Therefore, it is not surprising that just 2 miles down the road from our head office, an area of land originally known as the Hartfordbridge Flats, was chosen to construct an airfield for use throughout the Second World War. Blackbushe Airport, as we know it today, was originally called RAF Hartfordbridge. Construction of the airfield began in 1941 with the specific aim of using the airfield to spearhead the D-Day landings. It was used throughout the Second World War for reconnaissance and defence operations, using Spitfires and Mosquitos.
The early days of RAF Hartfordbridge
In 1942, whilst still under construction, Aero Airborne from Farnborough were the first squadron to take up residence at the airfield. By the end of 1942, construction was complete and RAF Hartfordbridge consisted of three runways, eleven hangers and a large camp site, but it was not without its faults. Its close proximity to the A30 caused security issues early on, one of the runways that extended southwards across the A30, resulted in the closure of the road throughout WWII with traffic being diverted through Minley.

Aerial view of Blackbushe Airport between 1942 & 1943
It was also feared that the Nazis would try to use the A30 road as a makeshift runway during part of an aerial invasion of Britain and to try and counteract this, Searchlight units were set up nearby in Eversley, Rotherwick, Caesar's Camp and Cove. To find out more about Searchlight sites in the local area during WWII, take a look at our article.
During 1943, several squadrons took up residence at the base and it became known as a fighter airfield. By 1944, over 3000 airmen were based at the airfield with Tomahawk, Spitfires, Venturas and Mustangs frequenting the airfield often. Additionally, the airfield also became a diversion site for Bomber Command with the likes of Halifax, Lancaster, Fortress and Boston aircrafts, often seen too.
        88 Squadron, Douglas Boston Bombers, resided at RAF Hartfordbridge between 1943 & 1944
FIDO
The airfield was also a tried and tested site for a prototype fog dispersal system called FIDO (Fog Investigation & Dispersal Operation). It was installed early on in 1944 and consisted of pipes being laid either side of the runway. The pipes were fed with old aviation fuel and ignited when there was fog. The heat created from this, would make the fog rise and disperse but using as much as 450,000 litres of fuel per hour, it was massively expensive to operate and therefore, only used on a small number of occasions. The original pipes can still be seen today.
    Igniting the pipes for FIDO
Becoming Blackbushe Airport
Towards the end of 1944, RAF Hartfordbridge was renamed RAF Blackbushe, due to confusion over a similarly named area in Norfolk. By 1946, after the war, the RAF had moved out and the airport was handed over to the Ministry of Civil Aviation, becoming Blackbushe Airport. It was at one point, considered as being the site of London's post-war principal civil airport, it was only narrowly beaten by Heathrow. (As an aside, our MD Michael Woolfson can remember flying out of Blackbushe Airport in the 1950s on a commercial flight to Spain for a family holiday!)
I'd like to say a big thank you to Becky at Blackbushe Airport, who kindly let me pop over to the airfield and raid their photo archives. She sent across some great shots and also let me take a look around their educational room, where they often invite the Guides and the Scouts to come learn about the history of the airport. Being so close to the airport, we have heard from an aviator friend that he and his fellow pilots use our storage premises, which are clearly visible from the air, as a line-up point for coming into land. We can often see light aircraft zooming into land or climbing steeply after take off. Our big ol' pooch is very used to them but his quick shift in gaze, lets us all know he's still performing his duties and making sure all is in order here, at the premises.
We'll be flying the Union Jack for remembrance day and putting up our poppies. We never forget the history of our premises as a Searchlight Site and the importance of supporting the armed forces.