We had quite a few customers contacting us, needing storage urgently during the various stages of the coronavirus lockdown. This was either because of sudden changes or unexpected pauses in their housing chain or because they needed to store stock securely while their shops and businesses are closed. If you are worried about this too, please do get in touch 0118 932 8328. We will do our best to help you.
We also had customers who used their coronavirus lockdown time commendably, to sort through the loft, the spare room and the garage – these people wanted to work out how to come into storage while sticking to all the social distancing regulations and as a large site with outdoor access to individual units we were able to offer a good solution to these needs.
How can I come into storage safely if coronavirus worsens again?
We have systems in place for coming into storage without customers needing to enter our office building or needing to sit down face-to-face with us. We can take payment remotely and in almost all cases, we can take your ID and receive your signed contract remotely, as well. Give us a ring 0118 932 8328 and we can talk you through it.
If you do need to come into the building and speak to us face-to-face, we have installed handwashing facilities in our porch area so that you can wash your hands as you enter (and of course you may wash your hands as you leave, if you wish) and we ask all customers to wear a face covering. Our staff have visors which they can wear when they are talking to you indoors – these are transparent, so accessible for those customers who need to lip-read.
Managing the move-in by yourself
When you come to access your unit, you will see that our office building is closed to the general public. This is to restrict the use of communal internal areas during the coronavirus crisis, to protect our staff and our customers. We can use a socially distanced system to issue your key if it's your first time in storage and then after that, you'll keep your key with you. When units are vacated, we clean the keys with antibacterial product before they are put away.
Nobody else uses the door of your unit, you do not have to use communal corridors, shared keypads, lifts or communal internal areas to access your unit. You can drive your car up close to your unit, park up, use your set of keys and get on with what you need to do.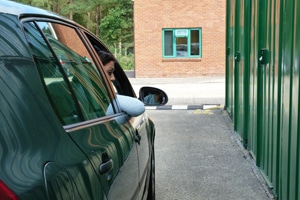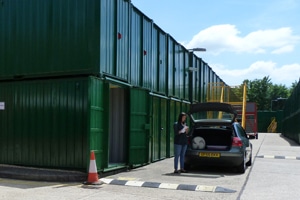 If you take a first floor unit, you will be using a set of outdoor mobile steps which other people do use. These surfaces are exposed to daylight and exterior temperature variations and of course we support any additional cleanliness measures that you wish to take in light of the coronavirus situation. You can bring wipes or hand gel if you would like to clean the handrails or your hands. Additionally, we are keeping a stock of disposable gloves onsite so that if you would prefer to use gloves to protect yourself and don't keep any in your car, we can issue you a pair. (Please note, we have a good stock in our cleaning supplies, but if we do run out and can't buy, we have hygienic alternatives like hand gel to try and help you out if you haven't got things with you and are concerned. The office is manned, you are not alone when you are here, so do always ring us and we'll make a plan to safely support you.)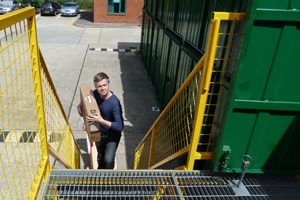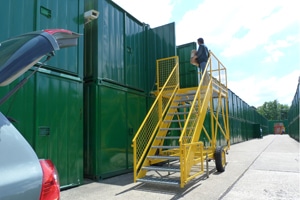 Needing help with the move-in if the covid situation worsens
A number of removals firms who are familiar with our premises have been able to remain open for business, even during lockdowns. We will do our best to help you find someone who can work with you to bring your things into storage, if you need this. Removals firms can benefit from the same things you can, when coming to site – lots of space to work, individual units and no internal communal access areas.
Are my things secure?
Although things are returning to normal now, we would like to reassure you that storage had formal exemption from the government list of businesses that had to close during lockdown. Furthermore, we have resident security, who actually live onsite full time. They and their canine colleague take care of your things any time the premises is closed, as always. We also have 24 hour recorded CCTV and floodlighting. During opening hours, although the office is locked to the public, we have staff onsite with adapted working practices to keep them safe. These staff are monitoring CCTV and doing regular patrols of the site throughout the day.
How else can we help?