We have quite a few customers contacting us, needing storage urgently during the coronavirus lockdown, or trying to organise it for immediately after lockdown is eased. This has either been because of hitches in the housing market or because they need to store stock securely while their shops and businesses are closed. If you are worried about this too, please do get in touch 0118 932 8328. We will do our best to help you and we are able to offer available units for immediate use.
We've also had customers who have been using their coronavirus lockdown time commendably, to sort through the loft, the spare room and the garage – these people have wanted to work out how to come into storage while sticking to all the social distancing regulations and a large site with outdoor access to individual units is a good solution to these needs.
How can I come into storage safely during the coronavirus crisis?
We have systems in place for coming into storage without customers needing to enter our office building or needing to sit down face-to-face with us. We can take payment remotely and in almost all cases, we can take your ID and receive your signed contract remotely, as well. Give us a ring 0118 932 8328 and we can talk you through it.
Managing the move-in by yourself
When you come to access your unit, you will see that our office building is completely closed to the public. This is to restrict the use of communal internal areas during the coronavirus crisis, to protect our staff and our customers. We have social distancing systems in place to issue your key if it's your first time in storage and then after that, you'll keep your key with you. When units are vacated, we clean the keys with antibacterial product before they are put away.
Nobody else uses the door of your unit, you do not have to use communal corridors, shared keypads, lifts or communal internal areas to access your unit. You can drive your car up close to your unit, park up, use your set of keys and get on with what you need to do.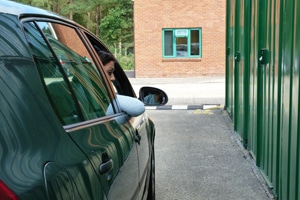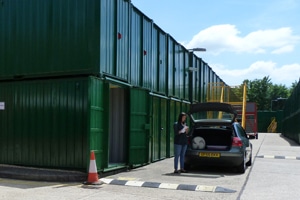 If you take a first floor unit, you will be using a set of outdoor mobile steps which other people do use. These surfaces are exposed to daylight and night time temperature variations and of course we support any additional cleanliness measures that you wish to take in light of the coronavirus situation. Our staff are using gloves when they touch them for maintenance. You can bring wipes or hand gel if you would like to clean the handrails or your hands. Additionally, we are keeping a stock of disposable gloves onsite so that if you would prefer to use gloves to protect yourself and don't keep any in your car, we can issue you a pair. (Please note, we have a good stock in our cleaning supplies, but if we do run out and can't buy more in these turbulent times, we have hygienic alternatives like hand gel to try and help you out if you haven't got things with you and are concerned. The office is manned, you are not alone when you are here, so do always ring us and we'll make a plan to safely support you.)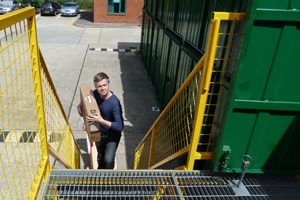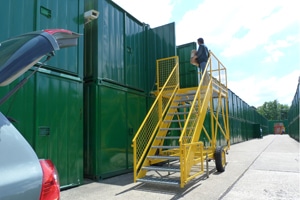 Needing help with the move-in
A number of removals firms who are familiar with our premises are open for business. We will do our best to help you find someone who can work with you to bring your things into storage, if you need this. Removals firms can benefit from the same things you can, when coming to site – lots of space to work, individual units and no internal communal access areas.
Are my things secure?
We would like to reassure you that storage has formal exemption from the government list of businesses that have had to close during lockdown. Furthermore, we have resident security, who actually live onsite full time. They and their canine colleague will be taking care of your things any time the premises is closed. We also have 24 hour recorded CCTV and floodlighting. During opening hours, although the office is locked to the public, we have staff onsite with adapted working practices to keep them safe. These staff are monitoring CCTV and doing regular patrols of the site throughout the day.
A canine update!
This is being included here, because so many of our lovely customers have asked if he's alright and still being looked after. We posted on Facebook a few times during lockdown, but we know not everyone is on social media or is following us.
To reassure those kind people, he's absolutely fine – we have been able to keep him in kibble throughout the various stages of the crisis, without any difficulty and our day and night teams have been ensuring that he's getting lots of walks in our woods, so that he's still being entertained and exercised, just like he is in more normal times. Our brilliant vet practice is still providing him with remote health support.
During the very hot weather, he has a huge yellow bucket the size of an old fashioned tin bath, full of fresh cold water and during his daytime off-duty hours, he likes to jump in and out, splashing the windows and any of his trusted colleagues who visit him, who he thinks look a bit warm. So if you pass his gate and see that he's soaking wet and looking smug, that's why!
Early on in lockdown, during March and April, he definitely noticed the reduction in cars on the A327 and took a great interest in the increase in wildlife along the road at night. He's quite a young dog and this year it's been fantastic to see him really coming into deeper voice and taking his territory and responsibilities super seriously – he likes his colleagues and enjoys their company but he takes a good hard look at anyone he doesn't know well. He's very aware of anything out of the ordinary and likes to comment loudly and bring his human colleagues to look into anything he notices both within our premises and along our perimeter!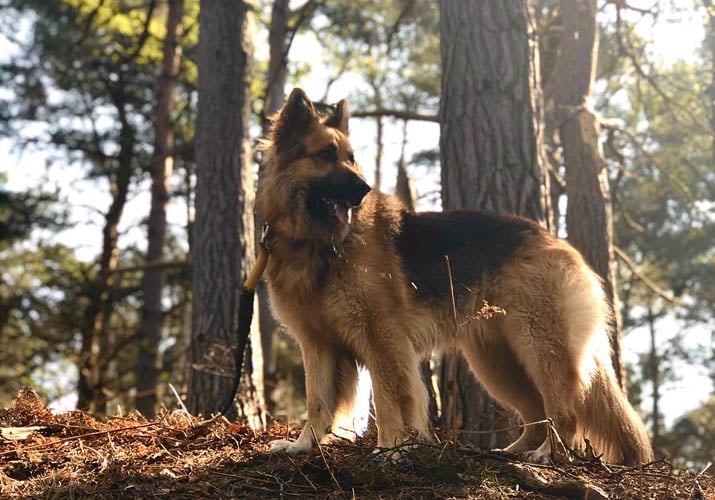 (Our very old and grizzled Marketing Dog, who lots of you know well but who doesn't live here, is also doing well – he worked from home for quite a lengthy period, focusing his attention mostly on supervising (sleeping through) homeschooling and contributing his noisy drinking and snoring to Eversley Storage Skype calls. He's been back in the office for a few days now and is keeping well on top of his workload (sleeping schedule) so far.)
How else can we help?